Imagine this: it is the middle of a heat wave in the summer and your grass, which was once looking so green and luscious suddenly, begins to look brown and dead, or, your sprinkler may be acting up in another way. Instead of jumping to buy a new sprinkler system, there may be a simple way to repair it.  The three most common issues with sprinklers are listed below. If there is an issue with faulty wiring or any technical work, it is best to contact the professionals instead of trying to fix it yourself.
Leaking Sprinkler
This problem can turn into a real headache because it can end up wasting water causing your bills to go up or the area on your lawn near the leak can become oversaturated with water ruining that area of grass. This problem is most likely caused by loose equipment. This can be easily fixed by tightening the sprinkler head. However if the problem is leaky pipes, it is best to contact a professional.
Sprinkler Not Doing Its Job
If the sprinkler is not doing its one and only function, which is to water your lawn, the whole system seems pointless. Before you do anything to fix this, make sure it is not a user error and that the timer is off in the settings panel. A blown fuse can cause the sprinklers to not water though. To fix this you have to replace the fuse. Instructions should be in the owner's manual or contact a professional.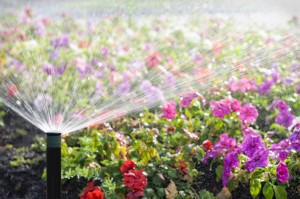 Sprinklers Will Not Detract
Out of all of the problems you can face with your sprinklers, this one is just a nuisance. There is probably debris surrounding the sprinkler head may make it difficult for them to retreat. It is best to clean around the sprinklers and make sure there is not anything preventing the sprinklers from retracting.
For more information about outdoor drainage systems in Maryland, call Aqua-Bright today at 410-489-9009 or take a tour through our website.
Make a splash and follow Aqua-Bright Irrigation & Illumination on Facebook, Twitter, Google+, and LinkedIn! For examples of our work, check us out on Pinterest, too!
Source:
http://voices.yahoo.com/three-common-water-sprinkler-system-problems-how-6324468.html