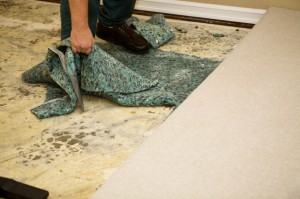 Sometimes, even if you take preventative measures, your basement can flood due to heavy rainfall or melting snow. In these cases, your number one priority is usually to protect your valuables; you'll want to move any important documents, photos, and electronic devices from your basement so that they are not damaged. But another very important thing can be damaged by water in your basement: carpeting.
If your carpet comes into contact with water, the damp surface becomes a perfect environment for mold and mildew to grow. Mildew can often provoke allergic reactions and cold-like symptoms, but mold can cause far more severe health problems, as many varieties are toxic. So, to avoid mold and mildew, as well as any other form of rot, it is necessary to properly dry out your carpet after a flood.
If your carpet is easily removable, such as an area rug, you may be able to remove it and wash it in order to kill off any mold spores and prevent their growth. You should let the rug dry thoroughly in a well-ventilated area and not replace it until you are sure that it has dried all the way through. This may take some time to guarantee, but you do not want to put the rug back while it is still damp; this does not solve your problem.
If your carpet is installed and nailed to the floor, it may be more difficult to clean and dry it properly. Professionals will have access to large-scale carpet cleaners and extractors, which can be used to remove water from the fibers of the carpet. Professionals will also have large dehumidifiers, which should be used to keep the air in your basement dry. This will expedite the drying process. You should also replace the carpet pad with a new, dry one in order to protect the underside from mold development.
While you should run fans and dehumidifiers to keep your basement dry, you should not associate heat with dryness. Keep the thermostat set below 75 degrees; anything warmer could facilitate the growth of bacteria.
Follow these steps and make sure you have a reliable professional, such as those at Aqua-Bright, when you dry your carpet out after a flood.
For more information about lawn irrigation and outdoor lighting in Maryland, call Aqua-Bright today at 410-489-9009 or take a tour through our brand new website!
Make a splash and follow Aqua-Bright Irrigation & Illumination on Facebook, Twitter,  Google+, and LinkedIn! For examples of our work, check us out on Pinterest, too!
Source:
http://www.familyhandyman.com/basement/how-to-dry-out-basement-carpeting/view-all