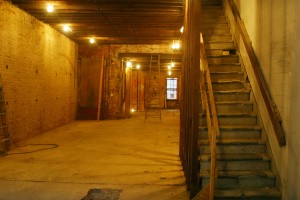 A flooded basement is every homeowner's worst nightmare. However, knowing how to properly deal with basement flooding can go a long way in giving you peace of mind in the event that it happens. Aqua-Bright is here to give you a few tips on how to minimize the damage to your home in case of flooding.
Before it happens
Waterproofing your basement and installing reliable drainage systems, such as a French drain, will help minimize how much water actually makes it in to your basement. The less water you have, the less water damage will occur!
When it happens
If your basement is flooding, there is little you can do in that moment to stop it. Make sure to unplug and move any electronic devices out of the way of the water. Also, remove any important documents or sensitive materials that could be damaged by the water if they are stored in your basement.
After it happens
After the fact, it's time for a thorough cleaning of your basement. If your basement is carpeted, it is often the best option to remove the carpet entirely, as it will be difficult to dry it all the way to the bottom layer, and any residual moisture could provide the right habitat for mold colonies to grow. If removing the carpet is not an option, try to dry it as best you can and keep the area well ventilated. While cleaning, open windows, run fans, and use dehumidifiers to get rid of as much of the water and dampness as possible. Fresh air is the key to reducing the chance of mildew or mold forming. Also, to discourage mold growth, use a mixture of water and bleach to clean any surfaces that have been affected by the water. This will ideally kill off any potential mold spores.
Do you have questions about waterproofing your basement or installing new drainage systems? Call the experts at Aqua-Bright today.
Are you experiencing any drainage issues? At Aqua-Bright, we do everything from re-grading lawns, installing French drains, connecting down spouts to underground drainage systems, and basement waterproofing. We have the experience and manpower to take on your toughest drainage problems.
For more information about outdoor drainage systems in Maryland, call Aqua-Bright today at 410-489-9009 or take a tour through our website.
Make a splash and follow Aqua-Bright Irrigation & Illumination on Facebook, Twitter, Google+, and LinkedIn! For examples of our work, check us out on Pinterest, too.
Source:
http://blog.hgtv.com/design/2012/08/28/home-survival-skills-dealing-with-a-flooded-basement/