With temperatures in the 60s all weekend and a forecast that shows some more warm weather this week, it may be time to turn on your sprinkler system.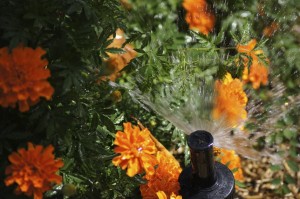 If you want your lawn to look luscious and green in time for the summer, now is the time to start watering.
To the inexperienced, turning on a sprinkler system seems like an easy enough task, you turn a knob and voila! Sprinklers are now on. Unfortunately it is not that simple.
You need to test your sprinkler systems backflow to make sure that any excess water isn't running into the city's water supply and contaminating it. This requires a certified person to come by and check out your system. If there is an issue, the professionals will be able to identify it and help fix up the issue so you can begin to use your sprinklers.
For more irrigation tips, check out:
About Aqua-Bright Irrigation & Illumination in Baltimore
At Aqua-Bright, it is more than just getting the job done, it's getting the job done right. That is why we take our time and pay attention to every detail. Whether it is installing lawn sprinkler systems, outdoor security lighting, or basement waterproofing, the professionals at Aqua-Bright do the job right. We wouldn't have it any other way.
For more information about outdoor drainage systems in Baltimore, Maryland or the surrounding areas, call Aqua-Bright today at 410-489-9009 or take a tour through our website.
For more information, call Aqua-Bright today at 410-489-9009 or email us. Ask us about our outdoor lighting as well.
For more irrigation tips in Baltimore, we've got you covered.
Make a splash and follow Aqua-Bright Irrigation & Illumination on Facebook, Twitter, Google+, and LinkedIn! For examples of our work, check us out on Pinterest, too.
Source:
http://www.angieslist.com/articles/make-sure-your-irrigation-system-ready-spring.htm